Full-size tempered glass side panel.
4mm thickness not only offers great protection, but also provides wide angle for optimized visualization while the system is running.
Addressable ARGB LED strip front
1x Addressable ARGB LED Halo fan x rear(Pre-installed) provide great cooling and dynamic cyber gaming atmosphere.
2 ways to control ARGB LED strip /fan lighting
either by manual ARGB LED button on top panel; or if your motherboard has 5v addressable connector, this case has ARGB 5V/3 pin header ready to SYNC w/your motherboard to control ARGB lighting.
Water cooling ready
front can support up to 360mm /top can support up to 280mm water cooling radiator
Advanced cable management design
Advanced bottom-mounted power supply design
Top mounted IO ports – dual USB 3.0
for up-to-date high speed data transfer
6 fans capability
(1x 120mm ARGB LED fans x rear pre-installed) provide great cooling performance
Magnetic dust filter at top – easy clean
Support up to 165mm CPU cooler
Support up to 350mm VGA card
Max length 180mm Power Supply
SAR 379.50 (Including VAT)
In stock
Compare
Description
Build a PC that looks as good as it performs with this sleek computer case. Pre-installed addressable RGB LED fan and strips deliver dynamic visual effects to glorify the whole system. Spacious interior can house large-sized components, which will perform at their best thanks to excellent cooling efficiency enabled by advanced cable management and versatile cooling options support.
Addressable RGB Lighting
One built-in rear 120mm ARGB LED fan work in harmony with two addressable RGB LED strips on two sides of the front panel to create a captivating style. All can be controlled by the manual button on top panel and can sync with your motherboard if it has a 5V/3 pin addressable connector.
Beauty of Innards
The full-size tempered glass side panel offers great protection and provides optimized visualization while the system is running.
Great Expandability
The case provides spacious room to accommodate various components, supporting up to ATX motherboard, up to 350mm-long graphics card, up to 180mm long power supply and up to 165mm tall CPU cooler.
Tidy Look
Clearance of 28mm behind motherboard tray allows advanced cable management to reduce cable clutter. Bottom shroud conceals power supply and keeps the interior neat and tidy. And the magnetic dust filter at top prevents dust buildup and makes cleaning easier.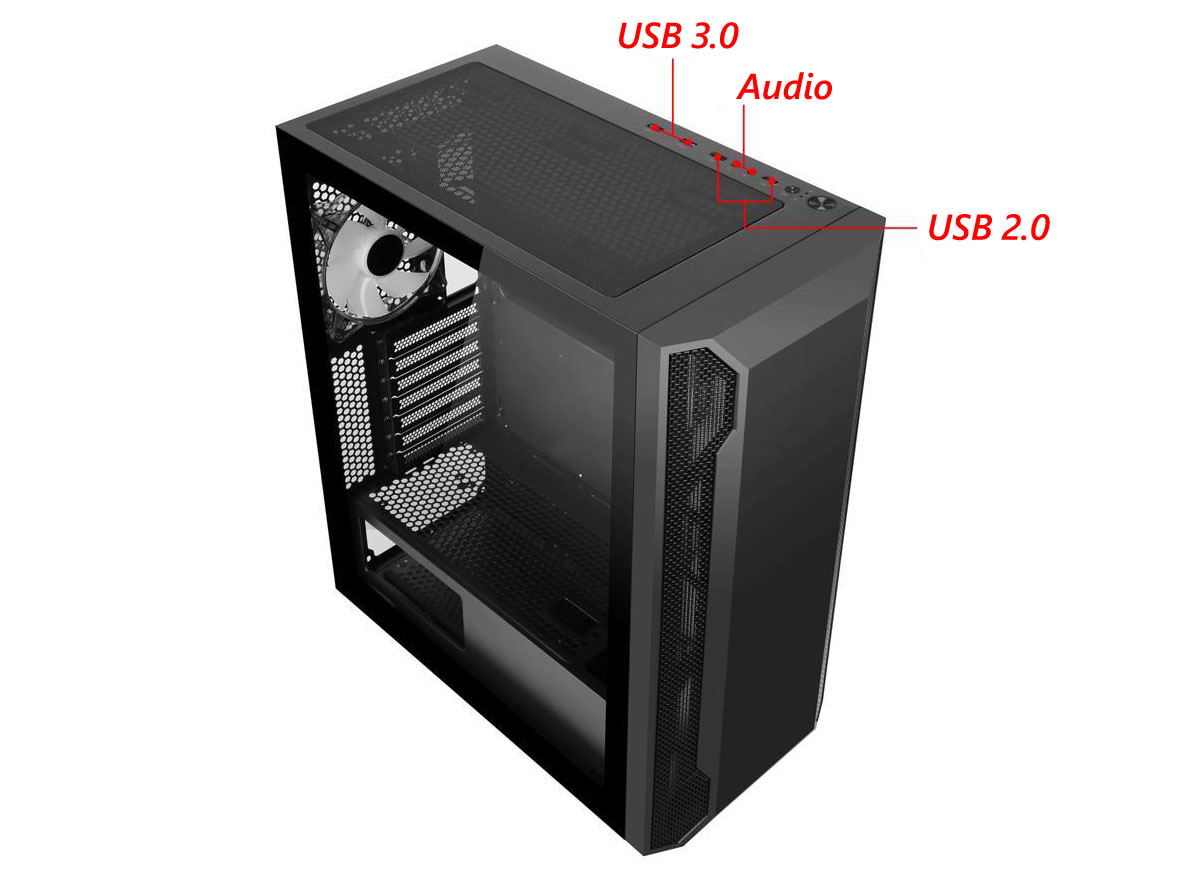 Top-Mounted I/O ports
The top panel puts I/O ports within easy reach, including dual USB 3.0 ports for up-to-date high-speed data transfer.
Full-size tempered glass side panel.
4mm thickness not only offers great protection, but also provides wide angle for optimized visualization while the system is running.
Addressable ARGB LED strip front
1x Addressable ARGB LED Halo fan x rear(Pre-installed) provide great cooling and dynamic cyber gaming atmosphere.
2 ways to control ARGB LED strip /fan lighting
either by manual ARGB LED button on top panel; or if your motherboard has 5v addressable connector, this case has ARGB 5V/3 pin header ready to SYNC w/your motherboard to control ARGB lighting.
Water cooling ready
front can support up to 360mm /top can support up to 280mm water cooling radiator
Advanced cable management design
Advanced bottom-mounted power supply design
Top mounted IO ports – dual USB 3.0
for up-to-date high speed data transfer
6 fans capability
(1x 120mm ARGB LED fans x rear pre-installed) provide great cooling performance
Magnetic dust filter at top – easy clean
Support up to 165mm CPU cooler
Support up to 350mm VGA card
Max length 180mm Power Supply
Only logged in customers who have purchased this product may leave a review.